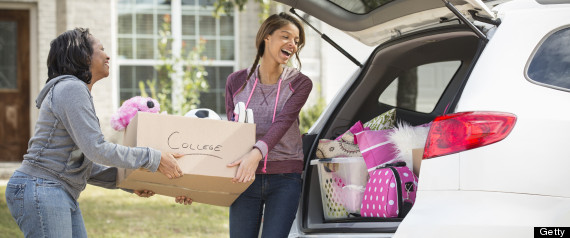 Your students' college courses have been selected, the extra long bed sheets for the dorm have been purchased, the car is packed, and off they go! For many parents the last 18 years have been about teaching and preparing their children for this very moment. However, after the kids have left home to find their place in the world, many parents are left to ponder, "Okay, so now what?" Below is a list of 5 ways you as parents can make the most of this time by shifting the focus back onto you and taking control of your newfound freedom.
1.     Find Your Why
Simon Sinek says in one of the most famous TED talks of all time, "People don't buy what you do; they buy why you do it." His powerful message challenges all of us to find the meaning in our actions. What do you believe in? What is the central value that drives all that you do? Now is the perfect time to start exploring your WHY so that you can begin to live a more meaningful and personally fulfilling adult life.
2.     Start "It" Now
Whatever "it" is, it's time to start. Whether you have harbored an inkling to start writing a novel, want to learn martial arts, or have a dream to build a business, there's no better time to start than now. The focus is back on you, so take advantage of this time to experiment, put yourself out there, and take steps to initiate the projects you have always dreamed of bringing to fruition.
3.     Work On Your Parenting Relationship
Parenting a teen is a serious challenge. At times, you might have felt like these last few years have resembled the likes of home-front WW3, but fortunately for you, the years that your children will spend away from you will give them the distance needed to appreciate all that you have done for them. However, remember that the responsibility does not solely fall on the students. Now is the time for you, the parent, to begin studying interpersonal communication 101 as well. Use this time to expand your parenting skills, so that you can create new kinds of relationships with your emerging young adults, cultivating the wherewithal to help them when life's big challenges arise in their mid- to late-twenties.
4.     Choose Doing and Being Happy
I know that I have spoken of this earlier in the post, yet I feel it is worth saying again: The focus is on you now, which means there is no reason to deny yourself the opportunity to engage in activities that fill you with purpose and add a surge of play, stimulation, and personal joy to your life. Happiness is a choice…a journey, not a destination. So today, choose to go where the love resides, explore what makes you curious, and act in accordance with that which puts a smile on your face. This is your life; it is yours for the taking. Have at it! Dare to become the architect of your own education, your life school. It is never too late to learn and grow and tap into unexplored facets within the self, eventually having the audacity to share these facets with the world. That is what passion is:  Pass I on.  Pass yourself on and enjoy the ride.
5.     Adjust Your Routine
When your students are no longer at home, and the once the full-time responsibility of managing their schedules and routines no longer falls upon you, you may feel underwhelmed. Now is the time to adjust your routine and make your non-negotiables all about you. Drink that green juice every morning, meditate, workout, and read. Engage in the activities you used to do when you were in your early twenties, or explore new endeavors that you have thought about doing, but never had the time to pursue. You will be amazed by how transformative even the slightest shift in your daily routine can be, especially when goaded by the notion of want to instead of have to!
This is all easier said than done. Lasting and meaningful change might not come overnight yet might appear in spurts. Parents can harness and sustain the changes they seek to make through ongoing inspiration, grit, support, accountability and wherewithal.
Assisting parents in making this shift from focusing on others to focusing on themselves is something that we here at Rainbow Tutoring are very passionate about. In collaboration with Hayden Lee, a Certified Academic Life Coach who is a powerful advocate for both teens and their parents, we have created "Reignite Your Passions," a revolutionary program designed to help parents with older children (in high school and college) find their why, build their dreams, and adjust their routines to bring the focus back on them. If this sounds like something you or anyone you know could benefit from, please call our office at (310) 902-7912 for more information and to sign up for our free informative event at 7:30PM on September 3rd!